Ms Antonia Alexandrou has been CONVIN's Executive Director and co-owner since 2000.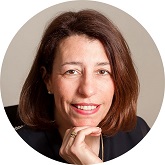 She was born in Athens while her origins are from the Aegean Sea, which she adores. After graduating from Zografeion Lyceum, she studied Business (Marketing) at the University of Exeter, in England. She acquired general experience during her internships in various private and public companies. Upon returning to Greece, she worked initially in the tourism sector and subsequently in shipping, before returning again to tourism and specifically in the field of conference organization. That was when she became attached to this field and decided to concentrate on it.

Having acquired over 15 years of experience in this field, she realized her dream of co-founding an own company in 2000. Her prevailing traits are extroversion, industriousness, and care for other people.